Employ your unused cell phone as a home security camera.
Turn your old smartphone or tablet into home security camera. Easy to use mobile app.
Security Camera CZ records detected motions as a series of photos or as short video clips. The application offers an easy and fast way to browse all your recordings. Watching of live stream is a matter of course. With two-way talk-back function and low light enhancement this app is perfect to use as a baby monitor, senior care camera or pet camera. You can use the application to watch over your house or garden, watch animals or birds, and much more. This app offers a lot of features, all of them for free. By installing the app on multiple phones, you can create a multi-camera system.
We have been here for 5 years!
High rating on Google Play justifies us to believe that we have developed a quality application. And we're still improving it!
Wide range of free features
Adjust your camera settings according to the environment.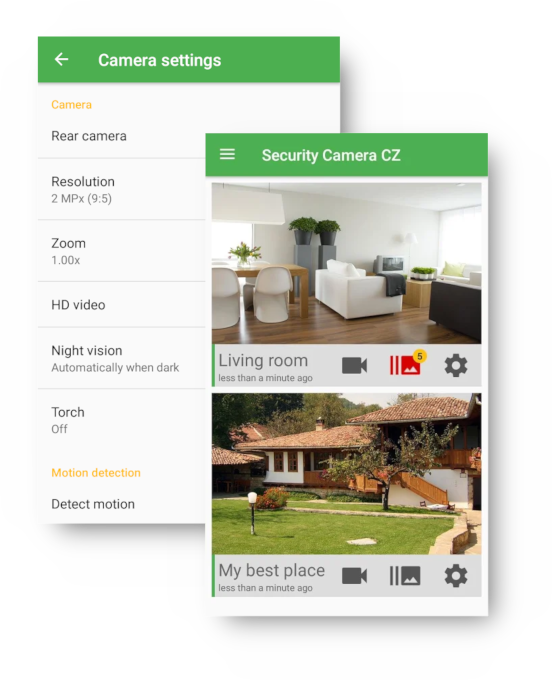 Landscape & Portrait mode
Adjustable camera resolution
Adjustable zoom
Manually adjustable focus
Switching between front & rear camera
Low light enhancement
Torch
Support for multiple cameas and multiple monitors
Siren option when motion is detected
Automatic storage management with capture history up to 15 days long
Motion detection alerts
Works with Google Assistant
IP camera mode
Motion detection alerts
Works with Wi-Fi or any mobile Internet connection
Offline mode
Automatic start of the application on unexpected device reboot
Smart motion detection
Avoid unwanted alerts thanks to exceptional
resistance to false alarms.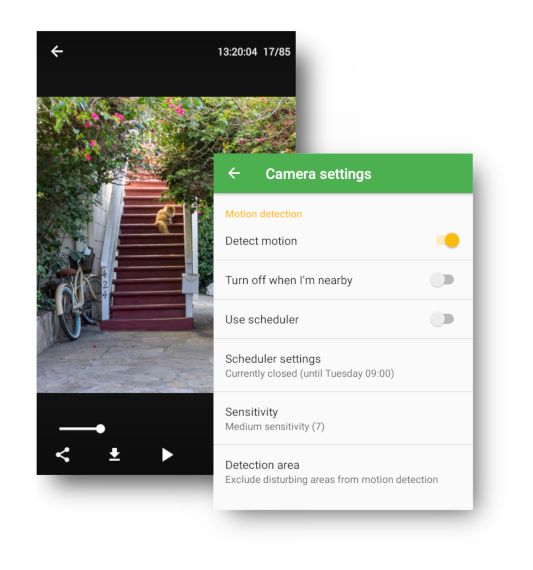 Detected motions are recorded as HD video or as a series of images in high resolution.
Motion detection zones
Adjustable motion detection sensitivity
"Turn motion detection off when I am nearby" setting
Scheduler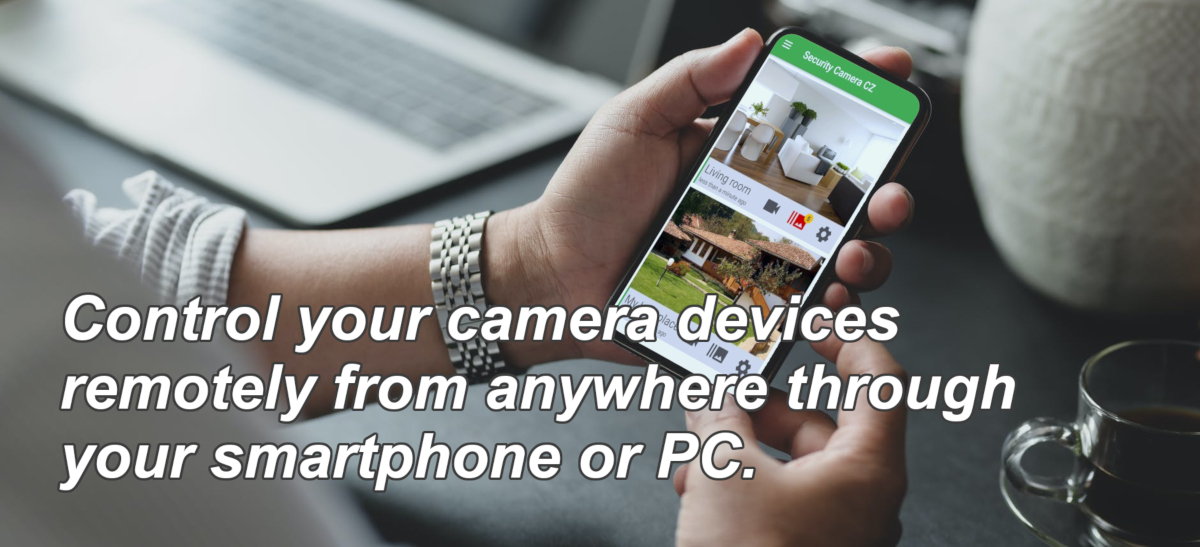 Remote control & monitoring
Monitor your cameras from your Android, Windows or Mac device
Watch and record live HD video
Communicate using two-way talk-back function
Remotely turn your cameras on or off
Share your cameras with friends and family
Switch photo uploads to Google Drive and have them available at any time
Easy to set up and configure
All you need is two Android devices and Internet access.
Step 1: Install Security Camera CZ on your unused smartphone or tablet, create an account and choose Camera mode.
Step 2: Install Security Camera CZ on your regular smartphone or tablet, log in with the same account and choose Monitor mode.

That's it! You can configure your setup further to suit your personal needs using a variety of useful settings, or even add more cameras.
Repeat steps 1 or 2 to create a multi-camera system with multiple monitors. All for free!
Security Camera CZ is completely free.
However, if you like this app you can support its development by upgrading to an ad-free version which will last one year and will also grant you two small perks of longer recorded history and longer live feed duration.
If you don't want to make a purchase but you'd like to support Security Camera CZ in other ways, you can still help significantly by rating the app and leaving a review on its Google Play store page.
Thank you!
Featured